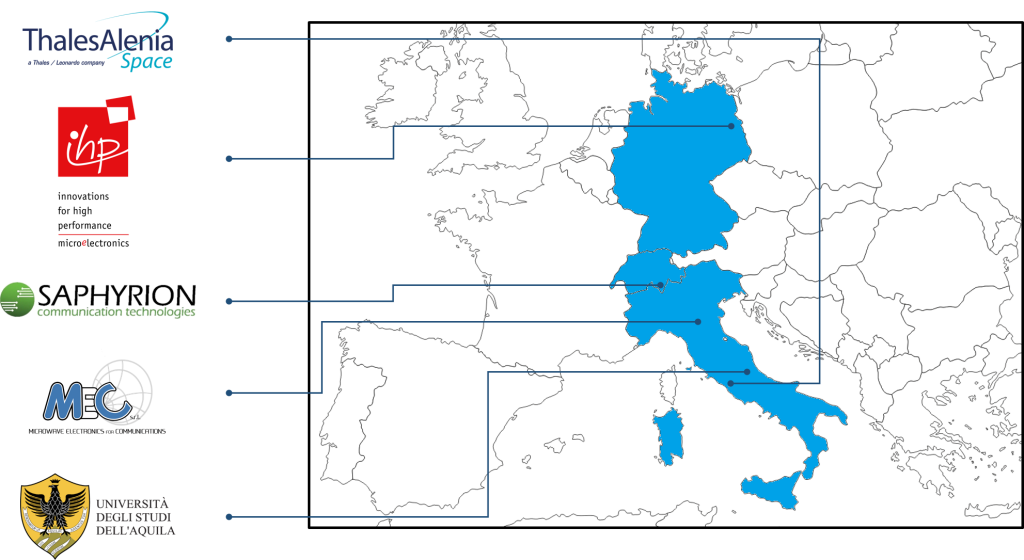 Thales Alenia Space brings over 40 years of experience to the design, integration, testing and operation of innovative space systems for telecommunications, navigation, Earth observation, environmental management, exploration, science and orbital infrastructures. A joint venture between Thales (67%) and Leonardo (33%), Thales Alenia Space also teams up with Telespazio to form the parent companies' "Space Alliance", which offers a complete range of services and solutions. Thales Alenia Space has built up unrivaled expertise in dual (civil-military) missions, constellations, flexible high-throughput payloads, altimetry, meteorology, and high-resolution radar and optical observation. The company capitalizes on its strong legacy, while also making innovation a key to its strategy. By offering a continuous stream of new products and expanding its global footprint, Thales Alenia Space has established its leadership in today's fast-evolving space sector. Thales Alenia Space posted consolidated revenues of about 2.4 billion euros in 2016 and has 7,980 employees in nine countries.
IHP GmbH – Innovations for High-Performance Microelectronics is a public funded German research institute located in Frankfurt (Oder) in Germany. With 300 employees and around 40 Mio EUR annual turn-over for operation cost and invest, IHP is dedicated to innovative solutions for wireless and broadband communication systems by close co-work of competent teams working in the fields of material research, process technology, circuit design, and systems.
IHP owns a pilot line with production-grade tool-set for 0.25 and 0.13 μm technologies and offers its CMOS and SiGe BiCMOS technologies for Multi Project Wafer service and medium-volume prototyping to external customers, via EUROPRACTICE. About half of the institute's staff is engaged with technology including the 24/7 clean room operation. IHP, while being a public research institution, also makes its semiconductor technology available to outside customers in the form of several distinct product lines, with industry-standard stability. Its multi-project wafer run business is particularly suited for the kind of microwave and millimeter wave systems with medium scale market volumes.

Saphyrion Sagl is a privately owned research and development company specialized in both board level designs and semiconductor, as well as software development. The head office is in Bioggio (near Lugano), in southern Switzerland. The business of Saphyrion is focused on high quality and high value designs both own and bespoke especially in the global navigation satellite system (GNSS) domain. The company has the capability of developing low power RF and base-band processing ASICs with their own firmware, board level products, as well as special techniques such as antenna beam-forming.
MEC (Microwave Electronics for Communication Srl), was founded in 2004, as spin-off of the Universities of Bologna and Ferrara, in order to offer to the Italian and European enterprises the know-how coming from the university research centres, in the field of microelectronic for telecommunications, particularly in the design techniques of Microwave Monolithic Integrated Circuits (MMIC), microwave Hybrids, and TR Modules.
The Company expertise and core business is the executive design and, lay-out generation, for the production of microwave integrated circuits and modules, through complex technological process using compound semiconductors (Silicon-Germanium, Gallium Arsenide, and Gallium Nitride) foundries. The specific markets addressed are the satellites systems, for both Telecommunication and Earth Observation.

UNIVAQ counts presently 23.000 students, 630 teachers-researchers, 490 administrative and technical staff. After the reform the 9 Faculties were transformed in 7 Departments which, besides research, provide Bachelor, Master and PhD Programmes in the areas Sciences, Medicine, Engineering, Humanities, Psychology, Economics, Educational Sciences, Sport Sciences, Biotechnologies. Research is developed in the Departments and in 2 Excellence Centres of Research (CETEMPS, DEWS), 3 interdepartmental Research Centres worldwide known.
The acticity of ATOS project will be developed in the Antennas and Microwaves Laboratory and in the Electromagnetic Compatibility Research Laboratory. The mission of these laboratories is to support research and education projects with a goal of advancing knowledge and tools to address challenging problems and support industry partners during the development of future products and services in the fields of antennas and microwaves, electromagnetic compatibility and signal integrity.